Dubble roadtrips in Norway summer 2016
I had some time off this summer and decided to explore Norway some more. Norway has so many beautiful places and spectacular locations its ridiculous. Specially trad climbing on Lofoten and Kvalöya area, are some really strong memories from this summer. But pretty much the whole country is amazing for nature experiences and we got to climb Norways national mountain the Stetind. I created some videos from this trip find it here.
Central Americas bicycletour and collecting top 10 highest summits 2016
Between march and April this year I have been cycling and collecting the 10 highest summits in Central America. I got to visit 7 new countries and Mexico becoming my country number 50 I visit with a bicycle. The mountains and volcanoes are best visited with trailrunning shoes and done very lightweight for the exception of Acotenango. Acotenango have an active vulcano just next to it and its nice to enjoy that from a tent camping only 2,5 kilometers from the active one seeing constant eruptions. This tour I ended with a visit to Cuba Island, I had to go before because that country is going to change alot the coming years. I did some adventure project videos about collecting the highest summits in Central America, find it here. There is also a 5 min short summary video here.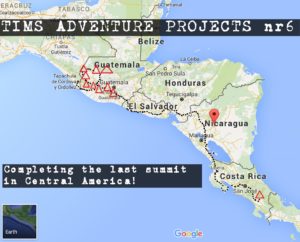 Collecting Americas top 10 summits 2016
In January 2016 I went back to Argentina to finish what I have started. After successfully climbing the Huascarans summits last summer in Peru. I had now four more to climb to complete this project. This I did during january and february months when I had good conditions in Argentina. I also did summit number 12 Incahuasi beacuse some people are considering the twin summit of the Huascaran mountain as one summit and similar ideas are being discussed about the Tres Cruses peaks.  Its been a great project and challenge to do with the crux being climbing the Huascaran peaks because of collapsing glaciers and avalanches on route to camp 2 (Garganta). This is a seriously dangerous mountain that takes lifes every year, speed was important and passing the most dangerous parts during night.
All the summits collected in this video.
Progression Tour 2013
A combined long-distance bike ride with ascents of South America's highest mountains along the way. The route went through Chile, Argentina, Bolivia, Peru and Ecuador. Andes offered stunning views, biking, camping and many lovely peaks to climb. 8000km by bike and 11 climbs. For completing this tour I got the award, Adventurer of the year in Sweden 2013. Blog in Swedish can be found here.
Around the Himalayas 2011
A challenging route with some of the world's highest passes and magnificent scenery. I passed six countries, and after 13.000km I ended the tour in Kathmandu, Nepal. The route offered major elements of the Buddhist culture, lots of passes over 4000m and the views of some of the highest mountains on earth. Countries visited on this tour: Thailand, Laos, China, Pakistan, India, Nepal.
Alingsås (Sweden)-Beijing (China) 2007-2008
My longest trip to date through 24 countries. I had the company of Nino Jönsson and Erik Törnblom down to Africa, then went solo through the Arabian Peninsula and Central Asia all the way to China. Old blog in swedish can be found here.
Gothenburg – Chamonix Mount Blanc 2006
In 19 days, Me and Aron Gilljam cycled down to Chamonix from home to do what Göran Kropp did but smaller in size. We rode to the foot of a mountain and climbed it. We summited Mount Blanc on this tour.