I got my eyes on this project last year when I read on facebook that my friend Malli from India was collecting  the summits. We climbed Ojos del Salado back in 2013. I didn't have any other travels or projects that attracted me as much as this one at the time so I went all in directly. First step, as it usually is for me is collecting those overtime hours at work. Thanks for that opportunity POSTNORD Norway.
Last year (2015) Malli Mastan Babu died on his last climb of the top 10 in Andes, and that gave me more emotional fuel to complete his idea. Also a wake up call for the consequences getting trapped on altitude with bad weather.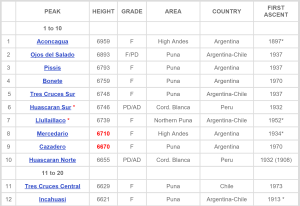 Top 12 summits in Americas by John Bigger, the list i have been following
There is different opinions what summits are the 10 highest. Main discussion is about Huascaran and if it should be counted as one or two summits. The south summit is 6746m and the north is 6655m The saddle in between about 6000m. Also Tres Cruses Sur and Tres Cruses central are open for the same discussion.
For me this meant that I also summited Incahuasi which is the 10 summit if you consider Huascaran as only one summit and Tres Cruses as only one summit. Its not only about collecting its about enjoying my time in nature aswell and for that purpose Incahuasi 6621 was a great objective offering massive views over all the high volcanoes in the area.

Chasing summits in Cordillera Blanca range, north Peru 2015
A list of things that attracted me to this project:
The ability to climb most of the summits alone. I enjoy to go alone into the unknown outside civilisation were there is no one to rely on except your own skillset. And when I say alone I mean no connectivity to the outside world. Full disconnectivity offer the full experience, the same way you step into a ring for a fight. On some level I except the risk of in worst case dying but reelying on my skillset and focus to not let that happen. Its a great way to build mental strength and an antidote for the entertainment based society we are exposed to everyday.
Having said that, there is a great value to climb and share the experience with other people. The strong bounds that I make with people when we share same values and push each other to reach a summit.
Also for learning and teaching each other is also an aspect that I highly value when joining a group. I dont have any official education in mountaineering everything that I learned is from climbing with people and internetbased.
Low technical difficulty. Only Huascaran summits in Peru offered steep climbing where glaciar knowledge and dubble iceaxes are really useful. Most of the mountains are steep walkups. You get strong legs while your upper body gets to rest.
The location of the summits offer a great adventure in itself. Many remote locations brings you far away from the normally traveled routes of South America. You get to experience the local tourim industry just starting to develop and the infrastructure for high altitude climbing just getting into its first stages. This include things like arranged mountain rescue operations unfortunately. Above does not apply on the popular mountain Aconcagua which is the highest summit of the Americas with its 6962m. There everything is in place to make a buisness of a mountain. And the only one with a expensive climbing permit for about 1000 usd for 20 days (2016).
Climbing the 10 is a great project to learn about how your body works on altitude and building yourself up for greater challenges.
Financially beneficial aswell, only climbing permit is on Aconcagua and small park fees for Huascaran summits.
Of the ten highest I climbed four with climbingpartners:
On Bonete Chico, with Lars Bengtsson, Sweden.
Ojos del Salado chilean route with Malli Mastan Babu, India
Huascaran Sur with Marcel Comomalo, Catalunia Spain.
Llullaillaco I did with Connie Grasser from Austria.
Extra thanks for your company and strong minds on tough, cold and challenging summit days.
And to all my other friends I shared mountains with in South America its always special memories.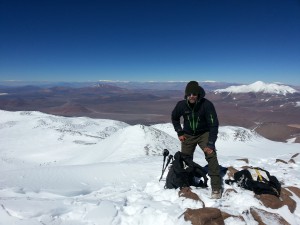 Lostcyclist (Lars Bengtsson) lost on altitude on Bonete Chico 6759m
Challenges to face on this project:
A challenge can be to get good weather windows to be able to enjoy spending time on the mountains. High winds and cold conditions will be present for some classic suffering moments.
Also the glacier on Huascarans are dangerous with avalanches. The glacier is always in motion and conditions change from year to year.
Remoteness of some of the peaks and lack of organised rescue teams. It will take a long while before somebody will be looking for you If something happens.
Axess to water. Many of the summits are up on the Puna plato. Up there water can be a challenge to get. Always have water in consideration while planning a trip in this areas.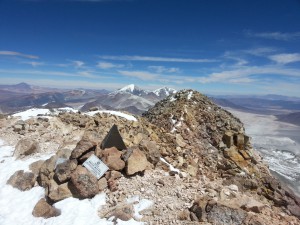 Ojos del Salado Argentinian summit, highest vulcano on the planet 6893m
Timeline of  the Top 10:
2013
I did a bicycle tour in South America 2013. The plan was to bike and climb all along the Andes. On that trip I did Aconcagua in january 2013. No mulas and porters were used during my Aconcagua climb. I walked in with 26kg to basecamp, great way to put on some muscle on the legs.
In feb 2013 we did Bonete Chico cycling up on the Puna plato. At one point we were carrying 16 liters of water each to compensate for the high altitude desert the Puna presents.
The cycling continued north and in Fiambala I planned for a new climbing adventure. The summit I was committing to was Ojos del Salado, worlds highest volcano with a warm up on Cazadero/Walter Penk. Climbing from the argentinian side I dident see another human for eight days in the area. Back in
Fiambala I got to meet Malli, an Indian climber that invited me to climb Ojos from chilean side aswell, it took me a couple of minutes to make up my mind to join Malli up again, and only five days after my first Ojos summit we summited the volcano again from Chile.
Later that summer I also tried Huascaran Sur in Peru but failed to summit. It was the only summit of the top 10 that I tried to climb with a guide. Also the only one I didn't summit on my first try. The guide didn't find the route up the mountain. I guess on purpose, instead we were standing in front of a wall of ice and the guide could not lead climb this so we turned around really early.
2015
I came back in 2015 and did it again with Marcel Comomalo, who I meet in the Monkeywasi climbing hostel. That time we find the normal route and did the summit. Between my first and second try the glacier changed alot on the mountain and the high camp was moved to another location. The route to the highcamp also became more dangerous and exposed for more ice fall and avalanches during my last attempt.
In lack of finding a climbing partner for Huascaran norte I did it solo. Nobody had climbed norte that season so there was very little info on the route. Except for what I found on summitpost and my own observations while climbing Sur. Already acclimatized and feeling motivated this one went fast.
My third visit up the Huascaran would only take two and a half days. First day up with a donkey to carry the backpack up to 4600m refugio. Continuing the same day up to 5300m at camp1. Spending a couple of hours there to eat and sleep my summit atempt started some hours later at around 24 o`clock.
Walking, climbing, and navigating the glacier I stood on the summit just for the sunrise at about 0630. I had left Huaraz only 24 hours before. Then back to the refuge at 4600m to camp and next day back to Huaraz.
2016
I wasn't really sure about the climbing season in Argentina this year because of El Nino weather patterns. El Nino dropped alot of snow and created bad conditions in december. I decided to get a flight ticket anyway and check it out myself. Original plan was to go with a friend of mine but because of one foot injury I was alone in South America for the third time.
El nino never caused any problems this season. The hardest time was on Pissis were I had to wait one more day in the highcamp to get good enough conditions for a summit attempt. Strong winds around the summit, the weather forecast showed about 90km/h. What it was in reality is hard to say but enough strength to blow me off my feet If I didn't keep my balance very low. Also my tent got a proper beating, the wind ripping apart some of my tension ropes and tent material.
The other summits this season went pretty much straight forward, with good conditions. And enjoyable summits without much wind. Tres Cruses was extra emotional because of Mallis death one year earlier on the same mountain.
Regular weather pattern this season have been two systems meeting in the high Andes and climbing up from the low lands from both sides of the chain. Usually the weather system coming in from Chile is dominating and creating high winds as a result but not this year. The weather have been calm, clear nights and first parts of the days, then transitioning into rainfall or snow, but without any real strong winds. Its been very comfortable.
In total now I have climbed 23 summits on 25 attempts above 5000m and one bigwall (The Sfinx, 1985 route, thanks to Uli Czopak) during 3 trips to South America.
I also cycled 8500km over some of the highest passes and climbs of the continent. And Im not even close to feeling done, for sure I will be back because there is so much more potential and attractive power of the Andes I will not be able to resist. But for now I will have rest the high Andes and visit Central america for some new countries. But check back before I turn 60 years and see how many 6000m peaks I have collected by then 🙂
I have sent home about 12kg of mountaineering stuff, everything but the iceaxe, it wasn't possible to send this back. So I guess, I will have a training tool and a weapon to carry around for uncomfortable situations in Central america maybe it will give me the confidence to cycle Honduras 🙂
Anyway its going to be great fun doing all the high volcanos of Central america with running shoes and cycle Panama to Mexico (lightweight). Also looking forward enjoy beach life and explore new countrys after all the time on altitude in high Andes.
I love life, I love you people, time, health and energy is limited, dont waste to much of it on stuff that moves you away from what you really need to do with your life. Dedicate more time on activities you like. Dont get to satisfied and dont give in to the fear.
Follow my journey up and trough Centralamerica on facebook, Instagram and youtube.
Next update from Nicaragua in april.
Tim